Keep your club organized online and leave the details on the sidelines with ACTIVE's sport club management software. Easy to use and perfect for every sport on and off the field, our club manager software allows you to streamline registration, input team information, add and drop players, schedule an entire season in a matter of minutes, and so much more.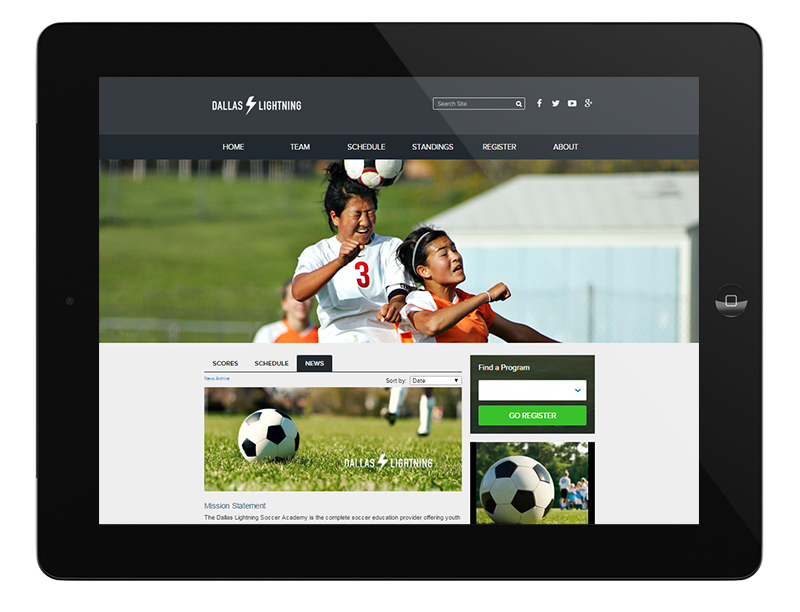 Simplify Your Sports Club Management
ACTIVE's software helps with every step of the club management process:
Easily build a customized team website that players and managers can use to check updates, schedules and more
Online registration allows players to sign up from home or on the go, skipping the pesky paperwork process
Put the checkbook away – team members can easily pay online during the registration process or set up recurring payments throughout the season
Track player documents and make sure everyone has submitted the correct waivers and other required releases
Manage contact information for every member, and easily message the entire team in seconds with built-in email
Need game changes on the go? With SMS text notifications, you'll get last-minutes changes straight to your phone, so you'll always be in the loop.
Save hours of planning with our scheduler – simply set your dates and times and the software will plan out an entire season in minutes
Soccer
Keep your focus on the field with our soccer club management software. Input individual and team stats, and track players throughout the seasons.
Learn more ››
Baseball & Softball
Drafting players has never been easier – just a couple quick clicks and you can build your team and assign positions in a matter of minutes.
Learn more ››
Football
Our football club management software takes the stress out registrations and keeps coaches and players on the field, perfecting passing and running plays.
Learn more ››
Tennis
Work on your serve and backhand instead of wondering where your next matches will be. From clay to grass courts, our tennis club software will keep your matches on point.
Learn more ››
Volleyball
Set your team up for success on and off the court with our interactive software, tracking schedules, records and more.
Learn more ››
Hockey
Players stay in check with our hockey club software – from ice time and penalty minutes to goals and assists, stats are easily managed and viewable after every game.
Learn more ››
Lacrosse
Set your positions, grab your stick and take to the field with our lacrosse club software. Easily manage players from registration to a season schedule.
Learn more ››