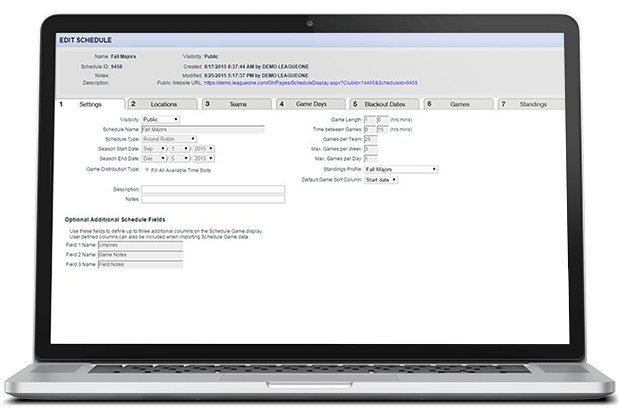 Online Game Scheduling for Your Organization
Overbooked and overwhelmed searching for the right league schedule generator? Whether you're managing a baseball, softball, soccer or volleyball league, creating game calendars means you've got to juggle different venues, teams, holidays...and don't forget weather conditions. Get rid of all that stress and let ACTIVE's game, league and sports scheduling software manage your calendar for you. When you use ACTIVE's game schedule maker, you'll have the tools to easily organize and book out your games. Using ACTIVE's software takes your games, locations, times, dates and round-robin considerations to schedule your perfect season. Plus, you'll be able to communicate better than ever, quickly sending updates on who's playing when, cancellations, changes, and more.
Easily create schedules for single or multi-sport leagues, even using custom league scheduling templates
Set game times and locations easily, without any time-consuming manual coordination processes
Add, edit or delete facility information
Communicate schedule changes to each of your groups (parents, players, volunteers, coaches, etc) with integrated email tools
Post your schedule, scores, stats, and standings on your website to keep your community informed
Schedule upwards of 5000+ games with our round-robin league calendar
Why Use ACTIVE's Sports League Scheduling Software
ACTIVE works with thousands of sports organizations. Basketball leagues, baseball leagues, soccer and hockey – it doesn't matter – they all face challenges when it comes to planning a perfect season. Games are the fun part everyone looks forward to, but if you're looking for software that can handle round-robin capabilities and blackout dates, ACTIVE's sports schedule generator is for you. Creating schedules can be a full-time job in itself if you don't have the right tools to help you manage all the details efficiently. Our sports software includes easy game scheduling tools that will help you get all of your players to the right place at the right time.