Online Soccer Registration
Online soccer registration helps you save time and effort when signing up players for your club or league.
Between indoor, outdoor, camps and workouts, running a youth soccer club can be a logistical challenge. With several registration dates, soccer club and league organizers are constantly promoting and processing registrations. With online soccer registration from Active Network, you'll cut out hours of paperwork by automating as many tasks as possible.
With Active Network, Sports you can offer online sign-up to your participants and volunteers with our easy-to-use soccer registration software. This will make the registration process easier for everyone involved. And since we understand that each club and league is unique, you can ask an unlimited amount of custom questions on your registration form so that you get the information you need. You can even create age groups and divisions for easy team assignments. Basically, everything that you do for your soccer club's registration process can be moved online so you don't have to do it yourself. With all the extra time, you may even be able to implement the offside trap with your U10 teams. Well, let's not get ahead of ourselves.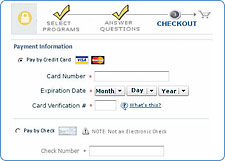 Set up and process soccer league registration online
Collect online and offline payments securely
Customize the registration process to gather the information you need
Create criteria to automatically enforce age groups and restrictions
Gather and view all player, parent, volunteer, and staff information in one place
Offer payment plans and create customized discounts