Football Registration Online
Save time as a league organizer by offering Football Registration online.
Running a youth football league is a lot to manage, partly because of all the paperwork. Think about registration day in late summer. You probably wake up early and get down to the local field or school to set up tables, organize volunteers, and triple check that you have all the forms you need. Then, the parents and kids scramble in to sign up and you're eventually going to have to manually handle all the paperwork and payments. That means trips to the bank and mind-numbing data entry into Excel spreadsheets. Online football registration makes all of that go away.
With Active Network, Sports you can offer your participants and volunteers football registration online. This will make the sign up process easier for everyone involved. And since we understand that each league is unique, you can ask an unlimited amount of custom questions on your registration form so that you get the information you need. You can even create age groups and divisions for easy team assignments. Basically, everything that you do for your football league's registration process can be moved online so you don't have to do it yourself. With all the extra time, you may even be able to implement the play action this year.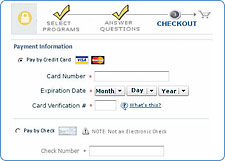 Set up and process football registration online
Collect online and offline payments securely
Customize the online registration form to gather the information you need
Create criteria to form age groups and divisions
Gather and view all player, parent, and volunteer information in one place
Offer payment plans and create customized discounts